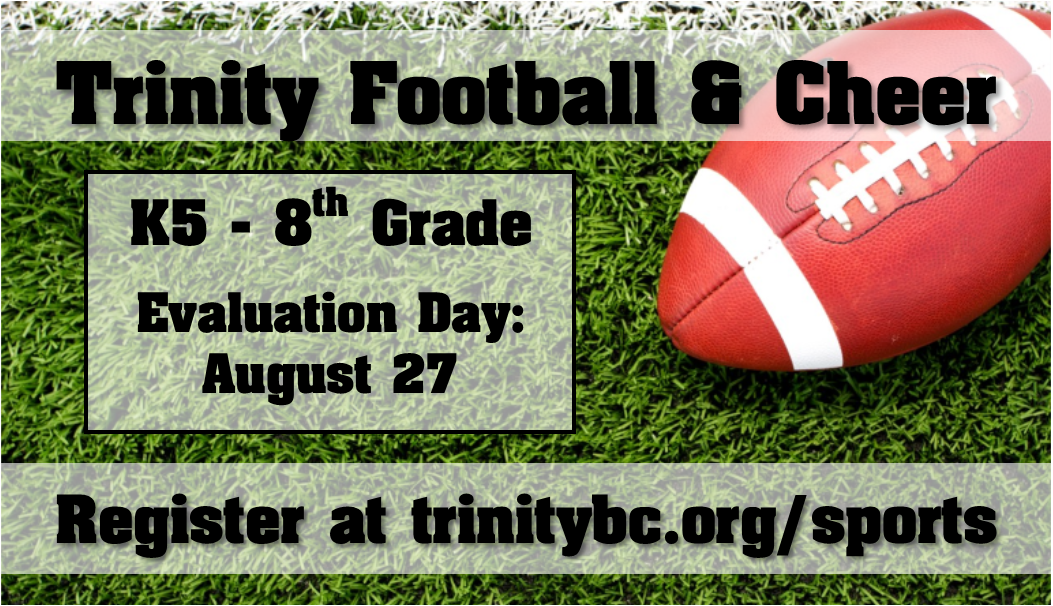 You are invited to join us for Trinity's annual Flag Football and Cheerleading season. This family-friendly league runs for eight weeks during the fall and teaches kids basic skills and sportsmanship. Player Evaluation dates are Monday, August 27 and Thursday, September 6. Each evaluation will be from 6:00PM-7:00PM.
to kids age K5-8th grade.
(Must be 5 by September 1)
The cost is only $60 if paid by Monday, August 27
to reserve your spot today!
INVITE YOUR FRIENDS TO PLAY!!!
Trinity Flag Football and Cheerleading is going to be a blast! The only thing that could make it better is your friends! Please be sure to personally invite friends, family, and neighbors to join you at the fields this season. Below is a Facebook event you can share and posts you can copy and paste in your status to help you let your friends know about football and cheerleading!
Sample Facebook Posts: (Copy and Paste)

My kids are signed up and excited take part in Flag Football and Cheerleading at Trinity Baptist Church this fall. Space is still available for your children to join mine for this fun-filled and family-friendly league. You can sign up at www.trinitybc.org/sports
Post #2
Last year the highlight of my fall was watching my kids play flag football and cheer at Trinity Baptist Church. They just opened registration for this year's season! I highly recommend you sign up your kids allow them to have the same blessing my kids have been talking about since last year! You can sign up at www.trinitybc.org/sports
Post #3
Heads up it is possible for your kids to play sports and for you to still have a life! Trinity Flag Football and Cheer is only one practice per week and one game per week! No Saturday mornings involved! Sign up now at www.trinitybc.org/sports