Send Conference 2017, Orlando- July 25-26
ARE YOU READY TO JOIN THE EVERYDAY MISSION OF GOD?
The Send North America Conference is a two-day gathering of the church in North America. The heart of this gathering is to see a movement of people from within the church living out the mission of God in their everyday lives.
Conference Schedule
THE DRIVE OF THIS CONFERENCE IS TO SEE A MOVEMENT OF PEOPLE FROM WITHIN THE CHURCH LIVING OUT THE MISSION OF GOD BOTH HERE IN NORTH AMERICA AND AROUND THE WORLD.
WHO IS THE CONFERENCE FOR?
The conference is for the church. It is for church members, students, lay leaders, pastors, group leaders, church planters, Sunday school teachers, student pastors, missionaries and anybody else who make up the local church.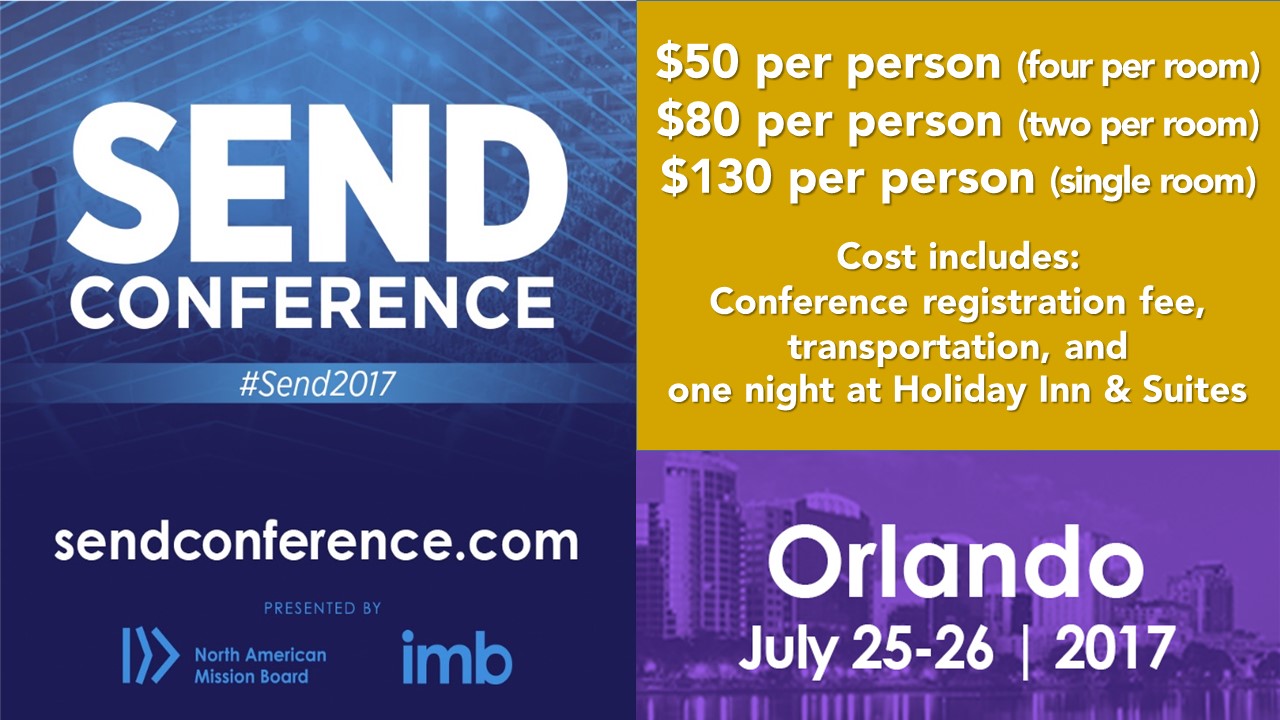 DETAILS
We will be leaving Trinity Baptist Church on Tuesday July 25th at 9 AM to head to Orlando. The conference begins at 1 PM. After the last session on Wednesday at 4:45 PM, we will be returning to the church. Breakfast and lunch will be provided on Wednesday (continental breakfast at hotel and lunch at conference). You will need to bring extra money for all other meals. The cost for the conference, including the Tuesday night stay at a hotel, is ONLY $50! Sign up now while there is still room available.
To register, please turn in a signed registration form, a TBC Medical Release, and payment to the church office.
Download registration form HERE.
Download student medical release form HERE.
Download adult medical release form HERE.
If you have any questions, please fill out the contact form below.